The Total Touch for you site
Biography in English

Traincha: the best singer which Holland ever knew, and obviously she is also very beautiful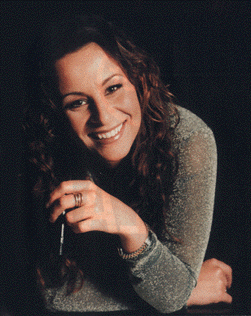 Total Touch is:
Leading singer: Trijntje oosterhuis
Composer and writer: Tjeerd Oosterhuis
Backing vocal: Berget Lewis
Backing vocal: Caroline Dest
Keyboard: Bas van den Heuvel and Tjeerd Oosterhuis
Percussion: Anthony
Guitars William Nurruwe
Guitars: Arnold van dongen
Drums: Cyril Direktie
Kind of music: Euro R&B
Total Touch excists since:1987
Albums: Total Touch (1996) and This Way (1998)
Singles: Touch me There, Somebody else's lover, One moment your mind, Standing strong together, Doo be la dee (not in Holland) I'll say goodbye, Love me in Slowmotion
Trijntje's solo singles: De Zee. Wereld zonder jou and Vlieg met me mee.
Prices: Mega Award, Veronica Dance Award, 5 tmf awards, Pall mall Export price, Zilveren harp. Gouden palm, Edison Award and many many more. They are the most award winning band of the 90's.
Next single: Forgive won't forget


---
Total Touch is the band of Tjeerd en Trijntje (Traincha) Oosterhuis. They are brother and sister. They have started the band in 1987. It was a very long way to come where they are now: The leading Dutch band. Trijntje is the best singer we have ever known in Holland, and Tjeerd is a wonderful writer and composer. The backing vocals, Berget Lewis and Caroline Dest, which are very important, have been taking part in Total Touch from 1990.
Total Touch is ruling the Dutch charts since 1996. They are a group of 9 persons with Trijntje Oosterhuis
as the leading singer. Tjeerd Oosterhuis, Trijntje's brother, is the composer and songwriter. Berget Lewis and Caroline dest are the Backing Vocals of this extremely popular group. The big break through of Total Touch was in 1996 with the outstanding song Touch me There. This song reached the 13th place in the Dutch charts. Trijntje's big break through was in august of that year she was the woman that opened the Amsterdam Arena (the homeplace of soccerclub Ajax) With the song "De zee" which means "the Sea". She performed for 50.000 people, one of the visitors was the queen of Holland: Beatrix. With the song "De zee" she reached the 7th place . About the same time Total Touch 2nd single came out: Somebody else's lover which reached the 3th place in the charts. Other singles of the album Total Touch were One moment your mind en Standing Strong together, these songs became also very big hits. The album Total Touch is the best selling debute-album ever. About 500.000 copy'ss were sold only in Holland.
Total Touch has won a lot of prices in that period. They have won The Pall mall Export price, de Zilveren Harp, they also scored 3 TMF Awards for the best singer, group and album.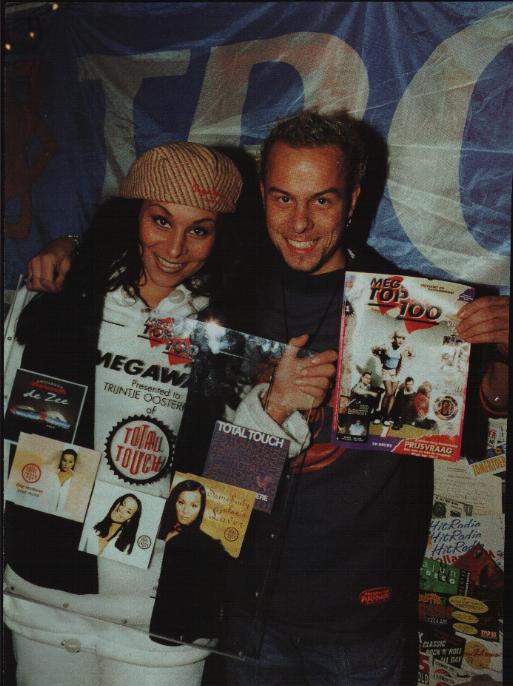 In Europe Total Touch is getting very famous and very popular also. Maybe you have already heard Somebody Else's lover but you must know the single Doo be la dee, which was very popular in the States and in Europe. Also popular were the singles I'll say goodbye and Love me in Slow motion these songs you really need to know. The singles I'll say goodbye and Love me in slowmotion are coming from the second album This way which already sold about 300.000 copy's. You must have seen Total Touch on MTV in 1998: they were nomineed for a MTV Award. In Holland this price is comparable with a TMF award. In 1997 Total Touch was nomineed for 6 tmf awards en they scored 3 awards. In 1998 Total Touch scored 2 awards. This year they will win again. At the 3rd of April we will know that.
Total Touch is now for 3 years the best selling group in Holland. All their concerts are sold out en their albums are one of the best scoring in Holland.

Trijntje (traincha) is called the Whitney Houston of Europe. But she is singing much better than Whitney.
She is the best singer in the world. In Holland we already know that, Europe will know that soon.
Go to your local record store and ask for Total Touch. Maybe you can get 1 of the following albums of Total Touch, on the right side you can see all the singles of Total Touch, you can ask for them too.